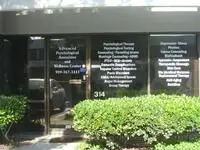 We provide Psychiatry as well as individual, group, couples, and family counseling, including:
Cognitive Behavioral Therapy
Solution Focused Therapy
Emotional Focused Therapy
Grief Counseling
Relationship Counseling
We offer treatment for:
Depression and Anxiety
Work and Career Issues
Stress Management
Addiction & Recovery
Conflict Resolution
Couples Counseling
Family Counseling
Parenting Support
We offer complimentary therapies such as:
Biofeedback
Transcranial Magnetic Stimulation
Hypnosis
Acupuncture
Therapeutic Body Massage
At-Home Testing for Sleep Apnea
We work with a wide range of emotional and behavioral issues providing services that span from psychiatry to therapy for depression and grief counseling to parenting support, couples counseling, and beyond. In a comfortable and supportive atmosphere, we offer a highly personalized approach tailored to each of our client's individual needs to help attain personal growth as well as reach distinct goals. We also offer Hypnosis and Biofeedback to help overcome many of life's complications, Transcranial Magnetic Stimulation to help eliminate or decrease depression, as well as improve learning. We offer Therapeutic Body Massage for relief of pain, to reduce anxiety, eliminate stress, and support restoration towards health.
We also offer Acupuncture to help relieve pain as well as increase well-being and overall healthiness. We work with people of all ages from 1-99 years. We can help with nutritional decisions that promote good health and an overall sense of self-fulfillment. Proper nutrition can reduce weight, increase energy, improve sleep, decrease anxiety, reduce depression, improve concentration in order to complete tasks, and improve lifestyle.

Groups meet in the evenings and on the weekends! We have groups in anger management ages 7-99. We also have groups for strengthening and building relationships, generating new parenting skills, improving nutrition, self-improvement, to deal with abandonment issues, addiction, anxiety, weight loss, and depression.

We have a psychiatrist, acupuncturist, massage therapist, biofeedback technician, and numerous therapists on the premises, and offer biofeedback, hypnosis, trans-cranial magnetic stimulation, as well as testing for sleep apnea, and more.

We are here to help!